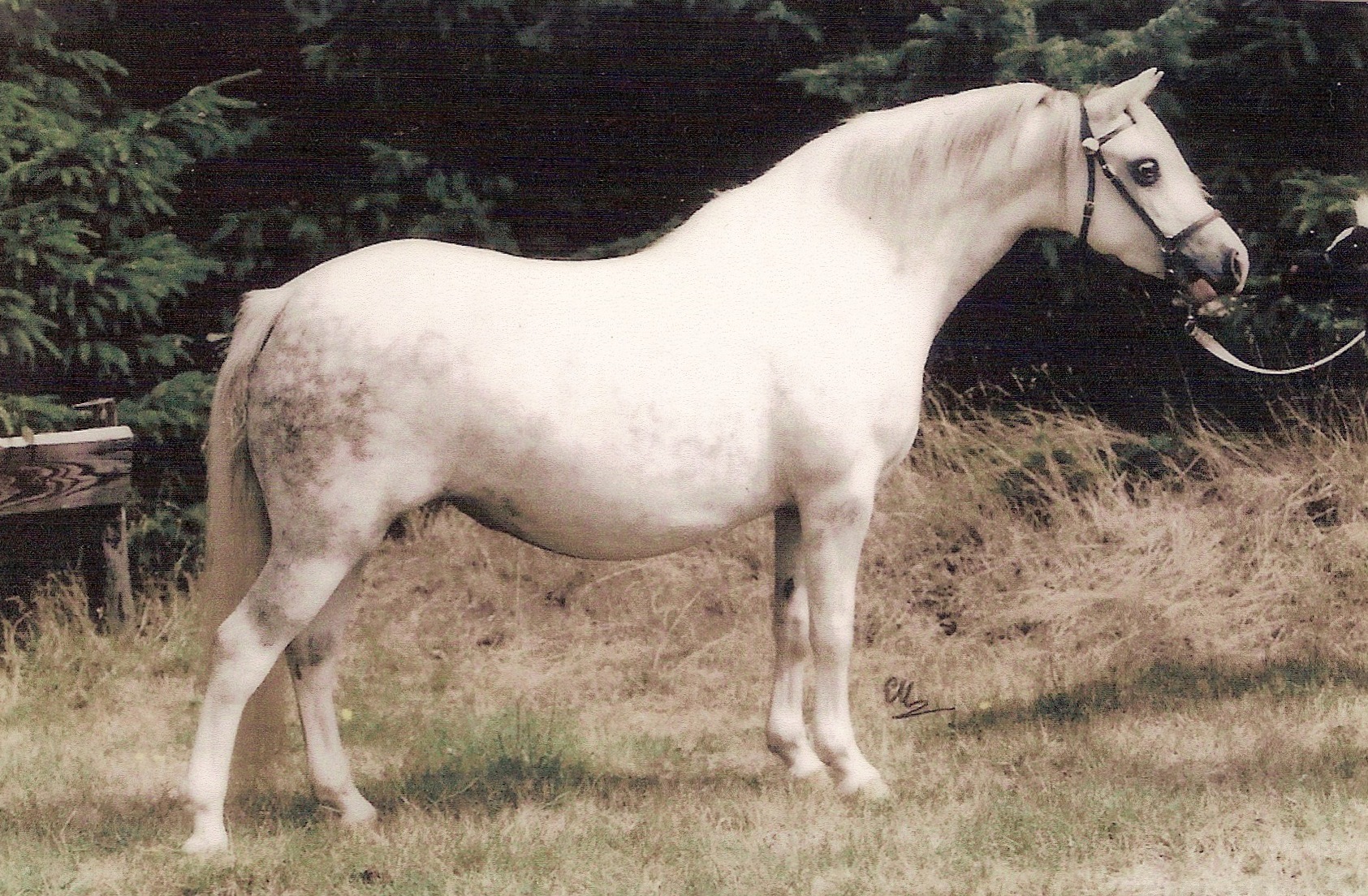 Powerful's Shirly
(Photo by Ellen van Leeuwen)
Born: 1993
Breeder/Owner: Herman Knobben, Heerde
In 1987, Herman Knobben and I had a discussion on what stallion would produce well with Maaskant's Brigitte. I made a list of stallions that I thought would fit, amongst which Sumrin Tristan, her halfbrother. Sometimes fate likes to help a little hand and Tristan moved close to where the Powerful stud is located. (Continues After pedigree)
---
---
Maaskant's Brigitte had her first filly foal: Powerful's Shirly. The filly looked smart. In fact so smart, that Herman Knobben decided to let Brigitte go in favor of Shirly. Quite a decision, as Brigitte was from a highly valued family. Brigitte's dam, Jolanda, produced 3 Premium stallions: Rober by Twyford Thunder, Caspar by Baledon Pippit and Maaskant's Jurgen by Coed Coch Brodor.  Besides, she produced three good daughters in Maaskant's Brigitte, Maaskant's Anita by Vardra Julius and Jonita by Rondeel's Cerdin. Brigitte had a prospect of becoming as good a mother as Jolanda: Brigitte had already produced two good colts, by Baledon Jeremiah and by Vardra Julius. The colt by Vardra Julius, Powerfuls Sunrise became a good sire of ponies in both Germany and Denmark.
| | |
| --- | --- |
| | |
| Sire: Sumrin Tristan | Dam: Maaskant's Brigitte |
|   |   |
|   | Dam's Dam: Jolanda  |
Jolanda is distinctive in other ways: she was by Dyrin Quicksilver, a halfbrother to Dyrin Tina, our foundation mare. Her dam was by Twyford Mark, a very good stockgetter in the Netherlands.
Powerful's Merith
(Springbourne Claret x Powerful's Shirly)

Powerful's Myrthe

(Castellau VIP x Powerful's Shirly)

Powerful's Merle
(Castellau VIP x Powerful's Shirly)

 

 

 

 

 

 Cyrna (Ysselvliedts Sven x Powerful's Myrthe)

 Powerful's Clarissa

(Ysselvliedt's Special Edition x Powerful's Merle)
Retaining Shirly has been a golden move to Powerful: She has gone to produce good stock, such as Powerful's Merlin by Elferink's Winston, Powerful's Merith by Springbourne Claret and the full sisters Powerful's Merle and Powerfuls Myrthe by Castellau VIP. Shirly has been declared "preferent" because of her successful offspring