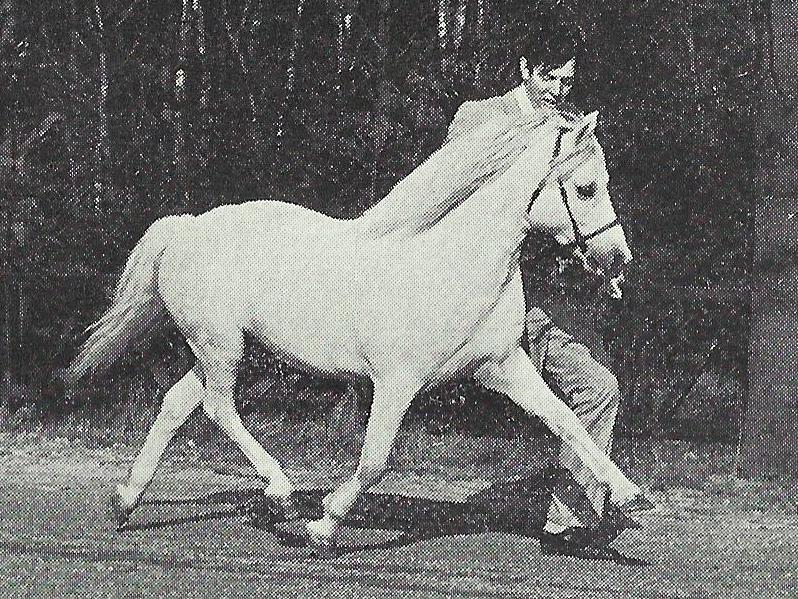 Dyrin Quicksilver
Born 1969
Dyrin Quicksilver was the one and only son of Dyrin Martini licensed in the Netherlands. He was presented as a three year old, but was rejected at the regular inspection. Mr. van Zeeland explained me that Quicksilver was overtrained, he would trot when he needed to walk and would canter when he needed to trot. He did get accepted in the retries and the year later he even won his class as a 4-year old, beating all the ones that got accepted the year before! Quicksilver died very young of a colic attack, which means that very little of his offspring managed to end up in breeding programs.
None of his Quicksilver's were ever licensed, but he did produce some nice mares, two of the most famous being Jolanda and Goorzicht's Marijke. Jolanda produced three premium stallions, of which two (Caspar and Rober) won the Dyoll Starlight trophy for best three year old bred in the Netherlands. Marijke produced one, Singels Easter Surprise, who was a striking stallion in his time, as well as the successful show mare Ovenzicht's Christel.
At Sumrin, we only used Dyrin Quicksilver on Dyrin Seren Wen and Stoatley Polyanthus, as we felt Dyrin Tina was to close, being a half sister. Interesting enough, Quicksilver was the first stallion we used out of the Criban Ruby line, before Criban Star Fiddle and Varpullan Wieroch (out of Quicksilver's full sister Dyrin Warpu).
---
Dyrin Quicksilver
Dyrin Martini
Criban Bantam
Bolgoed Shot Star
Treqoyd Starlight
Vardra Sunflower
Criban Brenda
Criban Cockade
Criban Ruby
Cwmowen Nutshell
Dyrin Athlete
Criban Cockade
Dyrin Princess
Cwmowen Lady
Forest Blue Banner
Cwmowen Young Cream Nellie
Dyrin Keepsake
Treharne David
Clan Dubail
Coed Coch Glyndwr
Wentworth Grey Dapples
Stoatley Bright Dawn
Coed Coch Glyndwr
Revel Moonlight
Dyrin Charm
Criban Ace
Vardra Sunstar
Criban Queen Bee
Criban Rachel
Criban Bumble Bee
Criban Ruby
---